Random artwork.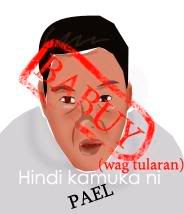 Yay. Our very titillating adviser, Ms. Go gave us our status report. i'm better at subtraction than addition, so i managed to find out that even if i fail the periodic test, i'll still pass the subject [no sense]..

I perfected my quizzes [plus a few bonus points], problem sets, got 1 mistake for the seatworks [but got loads of bonus points so i don't care that much about that], my fingerprints thingy, project, got 57/60 on our 1st LT, 73/80 on our 2nd.
I'm currently on my 4th and final plate in PA [which i hate..:)] and i don't get the freaking dovetail thingy. i don't even know how to make the effing square holes. And then sir Yangco sang "abot kamay ang pangit..mahawa ka sana" to francis the great head. btw, francis will be printing our Fil report kasi hindi siya nauubusan ng tinta [he's an octopus..or rather a tweetypus]
Hindi ako marunong mag-math kaya hindi ko alam kung ilan pa kailangan ko para maka 100 pero sigurado 100 si gabes. yun pa.

I went back to my ultrim diet this night. and it was fun to say the least.
Tagalog naman. Kanina, katabi ko si Johnrori alyas fish eggs sa Fil. Sabi ko sa kanya, may naaalala ako nung grade 6 GSP night camp. Sinabi ni *twoot* na naging kras nya si fish eggs, nung nalaman ng gf ni fish eggs na si Jhannhahhhh, sabi niya "sa lahat naman ng magugustuhan ni *twoot* isang pangit pa tulad ni fish eggs?!haha.." nandiri si fish eggs kay *twoot*
I haven't been updating my dA lately but i've been drawing a lot for my stress management series. I did this pie series thingy: apple pie, strawberry pie, key lime pie, & cherry pie. All i had to do was to make a person out of the pie's name and explain why i think that person resembles the freaking turd-ballish pie.
And i'm currently in heavy but shallow stress because of our Social Studies project and geom optional project[i did it but i didn't know there were guidelines.
i hate stress. grr grr.